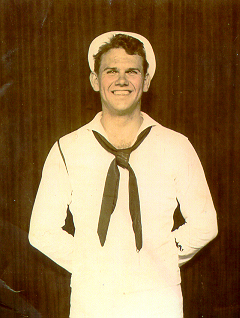 (James Robert Hervey (photo to left) lived through the action described below.)
The following is taken from the log of the 3rd war patrol of USS BANG (SS385), 27 August to 29 September 1944. By Jim Heg, an officer (44-46, WP2 thru 6).
Six days out of Midway, enroute to our patrol area (NE of Formosa and southern part of Nansei Shoto) we passed through a large cyclonic disturbance while running on the surface. On Sept 4th, about 15:00 a large wave broke over the bridge. We shipped a great deal of salt water down the conning tower hatch and main induction, resulting in the following damage: flooded out #2 air compressor motor; crankcases of both H.P. air compressors; main engine cooling motors in both engine rooms; No.l & 2 distiller motors and distiller feed pump; auxiliary generator, rudder angle indicator in conning tower, drain pump, and main power switch to surface search radar. There was more damage. The wave also flooded the officer of the deck (your present correspondent) . On September 9th we made our first contact. At 14:30 we commenced a submerged approach from about 10,000 yards. At 16:16 we commenced firing at a tanker and a cargo ship. Four hits heard and seen by C 0, Antone Gallaher. I'll let the Captain tell you what happened next:
'After seeing the hit in the AO (tanker), I swung around and saw that the leading escort was heading toward me - ordered 400 feet. Received the first pattern of depth charges while passing 350 feet, all above. Running at 450 feet at 2/3 speed under a 17 degree negative gradient. Both escorts were on us, alternating runs. During the next hour and a half, they dropped about 70 depth charges, many of them very close. They were not pinging, but were listening and using hedge-hogs, sono-bombs, or something else between the depth charge runs. All kinds of minor explosions that sounded quite close were heard. These were predominated by salvos of 16 to 20 double sounds; as pop-pop, 2 second interval, pop-pop, etc. At times they seemed to completely surround us.
After about an hour and a half of this, I thought we had lost them, as the only thing we could hear was slow light screws that sounded quite a distance astern. Twenty minutes of quiet and we were beginning to feel relieved, when JP (a sonar) reported light screws dead ahead and getting louder. I ordered right full rudder and we bad swung through about 30 degrees, when we heard the escorts screws through the hull, passing right over us.
It was so long after he had passed that I thought we were safe - then, as the saying goes. All Hell Broke Loose! 16 depth charges about one second apart, above very slightly and to port very slightly. We were at 450 feet when they started, but the bow was knocked down and we were at 580 feet, making standard speed with a 10 degree up angle before we caught the boat. A large shower of water poured down from the conning tower lower hatch from the bilges, due to the down angle. I was trying to get up through it to see if the cause of the water leak could be repaired or whether the conning tower would have to be abandoned, when I heard a definite thump on the hull, followed by a tremendous explosion. I believe this was a depth charge that bounced off our side. Lights were knocked out, the starboard sound head and JP were knocked out, all sea valves had been (knocked) open, oxygen and acetylene flask valves opened. Fuel filling and transfer valves opened, causing some fuel oil to shift from all normal tanks to No. 4 fuel ballast tank.
This was a close one, but we were very thankful that it was evidently the last of their depth charges. There were no more attacks, although we were certainly more noisy than we had been, what with all kinds of superstructure noises, air noises and pumps running.
At 20:55 surfaced. All clear. We found that the glass in the bridge gyro repeater was shattered, the TBT (Target Bearing Transmitter shattered, the forward end of the periscope shears dished in, sights and rudder angle indicator shattered, breech cover of the gun split open, lookout platform stanchions broken loose, and deck lockers loose. Repaired all major damage except SJ (radio) lobe switching which was out for the remainder of the patrol, starboard sound head out of commission, and two air bottles had to be bled down and secured.
A lot of us thought it was "quitting time" but not our Captain. On 12 September at 22:22 we finally arrived at our assigned patrol area. On 19 September at 06:15 we made a radar contact at 30,000 yards. At 09:15 we fired four bow tubes at a cargo ship and four side tubes at another cargo ship. Captain saw 2 hits on each target, and heard one breaking up and the other moving very slowly. Again from the Captain:
'Very deliberate depth charging began 4 minutes after firing. Their escorts were detailed to the job. They boxed us in and let us have about 80 charges, in patterns of 3, 6 or 9, during the next 5 hours. We were running silent at 450 feet under a 24-degree negative gradient It was disconcerting to find they could stay on us under those conditions. Two escorts would ping while the other made a run. Most of the charge sounded directly above us, but I doubt if they were set deeper than 300 feet. We finally pulled out from between them but could hear their screws astern for another hour and a half.'
At 20:50 we surfaced, all clear. (Just another long day at the office. On 20 and 21 September we made another attack - this one at night on the surface. We fired 10 torpedoes and hit 3 targets. Sunk two and damaged a third. The escorts thought we were on other side of the convoy so we did not receive a counter attack. With no more torpedoes, we set course for home. For this short 33 day patrol we were given credit for 5 ships sunk and 2 ships damaged. The Captain received a Navy Cross.
[Note: I included this account because it's a reminder of our family heritage, the dangers faced by our Grandfathers Nathaniel, Moses, Virgil, my brothers and all of our cousins who served in the military, and to understand what so many good Americans sacrificed for all of us. For those whose lives passed through Hell while we were safe at home, I am honored to be able to relate this family's story.]
---
This concludes the end of the family history as far as this site is concerned. It is up to the third generation of Virgil Temple Hervey, Sr.'s descendants to continue the tradition.
Click here for more (censored) Hervey Family Memoirs & Anecdotes.

---
For your pleasure, I include an excerpt from The Civil War Years of "The Gunns Of Montague", a fictional account of what my grandfather witnessed and may have written to his mother after the Second Battle of Manassas, August 30, 1862.
[Private Henry A. Easterling died from wounds received that day.]
---
THE GARDEN - From "THE GUNNS OF MONTAGUE"
The toe-to-toe fighting stopped at nightfall. Then the clean up commenced. Musicians acted as litter bearers, transporting the wounded to hospital locations. When there were no more wounded, they began the grave task of digging. But now, there were the wounded. Virgil and Sandall, the fifer, were litter bearers. Next to the wounded, they felt and smelled the glory of war just as if they had fought the battle. The sulfurous smoke of thousands of rounds of gunpowder hung like a shroud over the plains of Manassas. It was a most intimate sensory experience.
"Oh God, oh God," screamed Easterling as he was borne to the Stone House which had served as a Union Hospital a day earlier, but was now in victorious Confederate hands. "Oh, God, oh Momma, Momma." The screaming was intense, unrelenting. The battlefield was a desperate choir of screaming, crying and moaning, underscored from a distance with arrhythmic canon timpani, a solemn requiem, played in scarlet against an ebony sky.
"Oh God, the pain, please stop the pain, Ahhh!"
"It'll be all right Easterling," soothed Virgil with a calm, rote reassurance. "It'll be all right. We're almost to the hospital."
They could hardly avoid stepping on bodies or tripping over them in the dark there were so many, like the herring runs in the Connecticut River when he was a boy. He could hardly wade in the water without stepping on the fish. Stepping on the dead didn't matter much; it was stepping on the unmoaning wounded that caused shock and consternation. They were a macabre sight, dancing a ballet on tiptoe among the multitudes of lifeless and barely living, blue back silhouettes against a sorrowful sky.
"Oh God, oh God, please, please, Ahhh!" the screaming persisted.
"It's all right Easterling, we're there. We're there. It's all right."
The dim light from the open door guided their path. Beneath a window alongside the path in eerie illumination, lay testimony to the grim drama unfolding within the walls. It was a pile of human extremities, severed arms and legs, hands and feet, fingers, a toe or two. Virgil slowed; it was a gruesome sight, the battlefield notwithstanding. Easterling was alert and cognizant enough to see and understand. He screamed again, this time in fear.
"Oh God, don't let them cut off my leg, don't let them cut off my leg." His screaming was pitiful. "Oh God, please, no."
The prognosis was inescapable. His leg was hanging by shredded flesh, probably being held on more by what was left of his pants. Only his belt, a self-applied tourniquet, had kept him from bleeding to death.
"Don't let them cut my leg off, please Virg, please," he screamed.
A shadow dropped from the window and with a dull thud, landed on the pile of human debris and rolled down its side, creating a quivering avalanche of flesh. Virgil wasn't sure but it could have been a foot. He noticed a foot settling at the bottom of the pile, but an arm seemed to be moving at the same time, its elbow nudging its way among other limbs. It could have been the arm, he wasn't sure.
"Oh God, oh God, please, please." The screams continued as the sound of bones being sawed grew louder. They were directed by an orderly to place the wounded man alongside others. The orderly looked him over and reported to a surgeon whose arms were dripping with blood.
"It's the leg. It'll have to come off. Only take a minute," he reported. The surgeon nodded in silent agreement.
"No, no, Oh God, no. Please, Virg, don't let them cut my leg off," he screamed grabbing Virgil's arm. "Please don't let them Virg, don't let them."
Virgil pried open the hand and released himself from the death grip. "Can't you save it?" he asked the surgeon.
The surgeon shook his head and added impatiently, "Go gather up the others. We can't stand here and debate the issue. We have work to do."
Virgil backed away from his pleading friend. He felt helpless. "You'll be all right, don't worry," was all he could offer as consolation. Amid a cluster of lamps he could see teams of surgeons busily and quietly performing their art. A stream of red spurted from the table hitting one of them in the face. A casual back of the hand smeared the drops into a fearful mask. Virgil turned his back on the sickening smell of bowels and blood for more of his nightmarish task of locating the wounded. It was easy. Too easy.
Those who scream the loudest get our attention. The dead we simply cannot concern ourselves about. Those who quietly moan are left to their horrible and inevitable silent end. Like picking tomatoes from the garden in late summer, there are so many juicy red ripe ones, plump and tender, you don't know where to start. The sad consequences of this bountiful harvest, however, are the many which, for want of prompt attention, grow weak and fall crushed, their life blood needlessly enriching the soil. But unlike the garden, there are no seeds scattered on these fields from which new life will spring.

It is a sad son who writes you this day from Manassas, Virginia, the 30th of August 1862.

Lovingly, Virgil
Back to TOP.