THE JOHN McGEE FAMILY
OF MAUCH CHUNK, PA
HOME PAGE
Recorded for posterity by Josephine McGee Keller, June 1977.
[Note: This computer transcription is being made verbatim from her typewritten ms. by her nephew, Robert A. Hervey, October 2001. Care has been taken not to make any alterations, corrections, deletions or gratuitous editorial changes. See the "McGee Tree" file below for the ancestral lines.]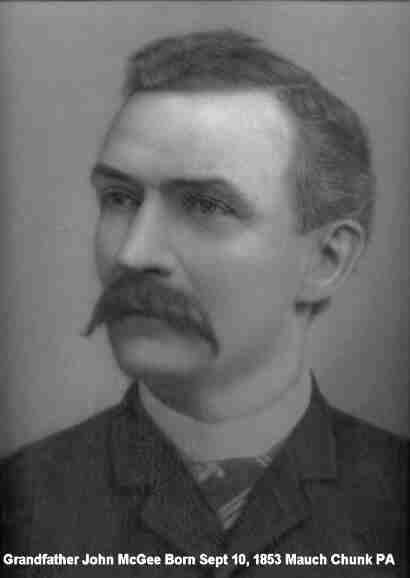 My father, JOHN McGEE was born September 10, 1853 in East Mauch Chunk, Pa. And died in Union Hill, N.J. He was buried February 12, 1923 at the age of 70 in the McGee family plot in Fairview Cemetery, Fairview, N.J. My father was a marine engineer employed by the West Shore Railroad.
My mother, LINA CHARLOTTE RIEMENSCHNEIDER McGEE was born December 22, 1869 in Brahorn's Mansion on top of the Palisades, in Weehawken, N.J. and died July 7, 1961 in Bergenfield, N.J. at 93 years of age and was buried in the McGee family plot in Fairview, N.J.
My father had two brothers; Hugh and James. He had two sisters; Mary, who died at age two on March 22, 1862 and Rose Ann, who died in 1920. James, Rose Ann and Mary are buried in the McGee family plot in East Mauch Chunk, Pa. Hugh was a prospector in the West. He had one daughter Rose McGee Riskin of Butte, Montana. I think both of them are buried in Butte.
My grandfather was JAMES McGEE. He was born in Donegal, Donegal County, Ireland and died in East Mauch Chunk, Pa.
JAMES McGEE OBITUARY
From the Mauch Chunk Democrat - Feb. 18, 1893 – JAMES McGEE
The venerable James McGee died at his home in East Mauch Chunk late on Thursday night last week, aged 85 years. He was born in the Old Country, and has been a citizen of Mauch Chunk for half a century. For many years he was a boatman on the Lehigh Canal. A large number of people attended his funeral on Saturday morning last, when his remains were laid to rest in the East Mauch Chunk Catholic cemetery, preceded by services in the Church of the Immaculate Conception, conducted by Rev. M.A. Bunce.
The survivors of his family are sons James, of East Mauch Chunk; Hugh, now in the new state of Idaho; John of New York, and daughter Rose McGee, of East Mauch Chunk, who kindly attended him to the end.
---
Mauch Chunk Coal Gazette - Friday, 2/17/1893 An Aged Man Dead
James McGee, one of the oldest and most respected citizens of East Mauch Chunk, died at his home, on South Street, last Thursday night, of general debility. The deceased was born in Ireland 85 years ago, and came to this country early in life. He lived in East Mauch Chunk for over 50 years, and during the greater part of that time was engaged in boating on the Lehigh Canal. The wife of the deceased preceded him to the grave some years ago. The surviving children are James McGee, merchant of East Mauch Chunk, Miss Rose McGee, who lived with her father, and by her devotion cheered and made bright the closing hours of his long life, Hugh McGee, at present living at Idaho, and John McGee, of New York City. The funeral took place at 10 o'clock on Saturday, and was largely attended. Services were conducted in the Church of the Immaculate Conception, on West Broadway, by the rector. Rev. M.A. Bunce. The interment was made in the Catholic Cemetery, East Mauch Chunk.
---
My grandmother was Eunice McGinley McGee, daughter of Daniel and Grace McGinley. She was born in 1819 in Gortahork (translation – small hill), Parish of Tullaghabigly. My grandmother died March 20, 1882 at East Mauch Chunk at 63.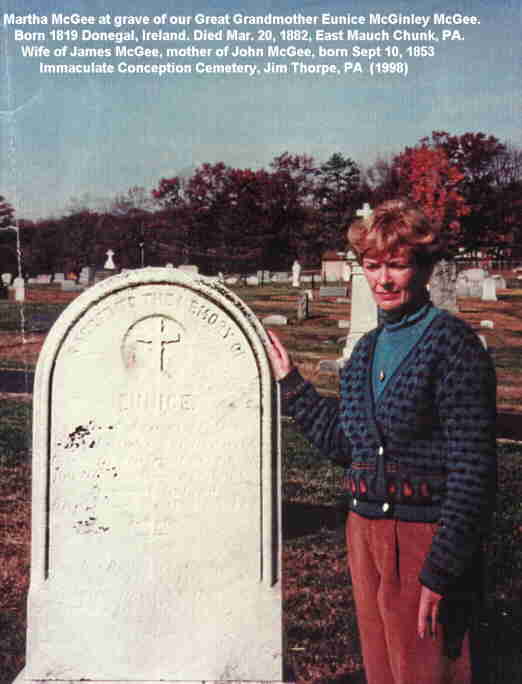 Grandfather McGEE was in the canal boat business, the owner of a fleet of boats which plied the Morris Canal to Jersey City, N.J.
While touring Ireland in 1954 I located the McGee family burial plot in Donegal, Donegal County, Ireland.
After much investigation, questioning, etc. I found the remains of the church of which my father spoke (his parents having told him about it)
St. Catherine's Church at the Crossroads
Killebegs, Donegal County,
Ireland
I met the local druggist, another MaGee who had a local gentleman take us to St. Catherine's. Of course, only the stone walls, foundation and gate were left BUT the family plot was undisturbed.
The graves were "covered" with a great big flat slab of stone (granite?) about 4 inches thick which rested on four blocks of granite 1 inches high and 6-8 inches square. The moss on the "cover" was at least 5 inches thick. I never saw moss so thick before and thought it grew so luxuriantly due to the sea air. The inscription on the flat stone was
Sacred to the Memory of
William MaGee
and of
Jane MaGee, his wife

The former died Jan. 31, 1811 aged 84
The latter died Oct. 12, 1812 aged 74
My great grandfather was born in 1727 and great grandmother 1738.
The guide remarked upon viewing the stone covering the graves – "these people were wealthy, for only they could afford a stone such as this."
I think my great grandfather was a mason by trade.
A short distance from the remains of St. Catherine's Church and its church yard was a wrought iron fence surrounding a little spring with a statue of the Saint. This is called "The Shrine of St. Catherine's Well."
The legend is:

A ship in 1513 encountered a terrific storm; all the food and water had been exhausted when the ship finally foundered off the Irish Coast. By this time many of the crew had died or perished. A few men survived and were washed ashore dying of hunger, thirst and fatigue. One crawled up on the shore and desperately clawed the ground in search of water. Suddenly a slight trickle of water was seen which developed into the spring which they named "St. Catherine's Well."
Every November 25th a pilgrimage is made to commemorate the "miracle."
When we were there the spring was still bubbling!
---
When in Killebegs (translation – Little Church) I stayed at Mrs. McShane's "White House Hotel". Incidently, tall palm trees were growing in her garden! She said her first husband was a McGee who left Ireland for Texas but became disenchanted, as well as homesick and returned to Ireland where he died.
---
During our wandering in Ireland I asked this question of priests, store keepers and anyone else who spoke Gaelic and all said the same thing which translated means
"Son of Hugh O'Neill, Chieftain of Tyron".
I was told by one priest that after the battle with the British at Kinsale in 1603, the O'Neills were banished – thereafter this was called the "Flight of the Earls".
P.S. My father could speak Gaelic and always said he was a descendant of the Irish Kings!
---
My father was a young boy when he was driving mules with his father near a train track. Just as they were about to cross the tracks something happened to the train and it went off the track, killing the mules. My father told us that Brigham Young and his entourage were on their way west in that train. Upon seeing the dead mules lying on the ground, Brigham Young went through the train taking up a collection to pay for my grandfather's loss. My grandfather learning who he was (with his many wives, etc.) being an Irish Catholic, refused to accept the money.
---
My grandfather owned a fleet of canal boats, also mules, which towed them. When my father was eight years old he was already driving the mules along the canals. When he was about twelve years old he had to return a team of mules to Mauch Chunk (without the canal boat). It was a very long trip so he decided to take a short cut through an old "haunted" cemetery to save time. It was a cold wintery night with a full moon and he reached the cemetery just about midnight. He was raised on tales of banshees, ghosts and leprechauns so this night his imagination began to work. He became very frightened and at that moment the mules "shied" and started to run. This was most unusual for mules just plod along at a steady gait, especially those which towed canal boats. My father hung on the reins but couldn't stop them. When they finally stopped due to exhaustion, he said the mules dropped on the ground to rest.
Evidently the wind started to blow and the bushes around the tall tomb stones made moving shadows which startled the mules.
Needless to say, he never took a second short cut through that cemetery.
---
My father had little formal education, attending school only in the winter when the canals were frozen and navigation stopped completely. Everything he knew, he taught himself.
When he was a grown man, his father gave him several canal boats and mules and he went in the canal boat business. His boat with a team of mules was being towed across the Hudson River when a Pennsylvania Railroad barge collided with them and they were sunk. Fortunately, my father was rescued and later partially compensated for the loss of his boat and mules. While awaiting the settlement, he stayed in New York City. Needing expense money he applied for work with the West Shore Railroad and was hired; later working on their tug boats. He now saw the opportunity of becoming a marine engineer, so he applied himself to his books and studied, preparing himself for the "examination". When it was given, he took it and passed it easily.
After becoming a Marine Engineer, he was no longer interested in the canal boat business. The remaining boats and mules he gave to his unmarried sister, Rose Ann, which she later sold.
He worked for the West Shore Railroad Company for over thirty-five years as Chief Engineer on their #7 and #22 tug boats. He was very proud his achievement. His boats were kept in perfect operational condition, immaculately clean and highly polished. His boat was considered by the Company as the "model" of their fleet.
---
ABRAHAM LINCOLN
My father was a little boy sitting on the shoulders of his father in Newark, N.J. at a torch light parade when Mr. Lincoln came over and shook his hand, patting him on his head and complimenting my grandfather for having such a fine youngster.
---
According to the stories I was told – whenever a relative decided to come to the United States my grandparents would sponsor them, sending them the costs of their passage. These people would stay with my grandparents until circumstances suited them, receive a "grub stake" from my grandparents and then move on. You will find McGEEs in the southern as well as the western parts of the United States. They all come from the same area in Ireland – Tullaghabigly. Gortahork, Killebegs; all little "towns".
Thomas D'Arcy McGee arrived in New York City; he stayed a while but then decided to go to Boston. From Boston he went to Canada where he stayed. Later he became Prime Minister – his statue is still located in Ottawa, it is in the park behind the capitol.
Dr. Edward (my brother) operated on Cornelius McGee who was a railroad engineer. Cornelius picked Edward's name out of a directory (figured anyone with the name of McGee would be trustworthy and skilled) to have his cataracs (sic) removed. Neither ever saw the other before. Brother Edward said "Cornelius and my brother James were identical"!
As to the spelling of McGee – some of our ancestors spelled it with a Ma and some with Mc – just why, I do not know.
---
Note: See the Andreas Riemenschneider Family home page for continuation of the family lineage.

Click here for the McGee Family Tree.

Back to the Virgil Temple Hervey Family Home Page